Blast chillers
Return to Ovens - Cook & Chill
THE IMPORTANCE OF USING BLAST CHILLERS
Commercial blast chillers are machines designed to quickly lower the temperature of food, so that they can go from 90 ° C after being cooked, to a cooling temperature of +3 ° C in a maximum of 90 minutes, thus preventing the multiplication of bacteria.
Our different ranges of mixed blast chillers with built-in freezing cycles can lower the temperature of the product to -18 ºC in just 4 hours, thus achieving fast freezing of the food, meanwhile avoiding an increase in bacterial flora and the formation of macrocrystals.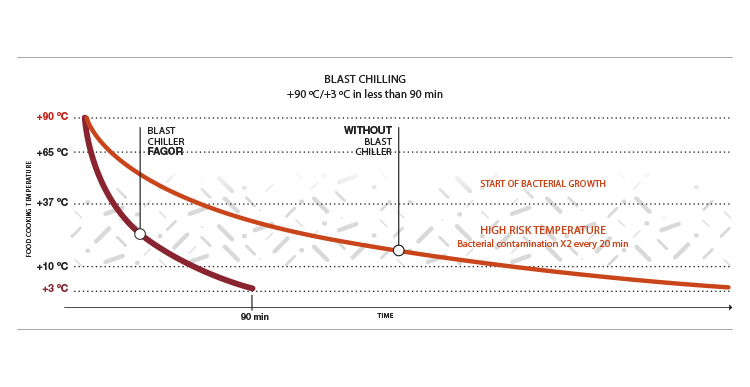 CHILLING CYCLES
Soft cycle (standard) - 90 minutes
This cycle is suitable for soft, light or delicate food which is small in size or volume
Hard cycle (intensive) - 90 minutes
It is suitable for high density or heavy produce, as well as for preparing food for packaging.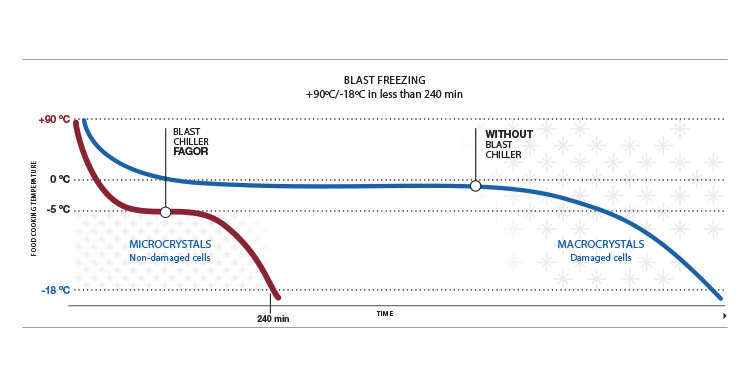 FREEZING CYCLES
Soft cycle (standard) - 240 minutes
This cycle uniformly freezes the produce making it suitable for foods which must not be subject to sudden changes in temperature, or which contain a variety of ingredients.
Hard cycle (intensive) - 90 minutes
It is the perfect cycle for freezing semi-finished dishes. It is also suitable for raw produce. It facilitates the stocking of frozen produce over a long period of time, which can be used over the course of the year.
01
HYGIENE
The rapid decrease in temperatures that the blast chillers make possible prevents the reproduction of microorganisms in freshly prepared foods.
02
QUALITY
The rapid decrease in temperature maintains humidity levels in food and prevents common bacterial growth.Our blast chillers are also excellent at preserving fresh and raw foods such as fish, crustaceans, vegetables, bread and semi-finished products such as fresh pasta and sauces.
03
WORK OPTIMISATION
Temperature chillers enable large quantities of food to be prepared which, once chilled, can be consumed over a period of 5-7 days. Advanced planning significantly improves the way in which raw materials are purchased, the organisation of work in the kitchen and the variety on the menu.
04
TIME SAVING
The simple operation of food regeneration makes it possible to serve a wide assortment of dishes in a very short period of time. The blast chillers increase production capacity while reducing personnel costs, with remarkable advantages of profitability and time.
Contact us
Are you interested in this product? Contact us for more information about this or other products.